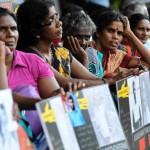 Ishara S. Kodikara/AFP/Getty Images
During a demonstration in Sri Lanka, relatives of Tamil activists held placards demanding the release of their loved ones who have been held in detention without trial for long periods of time.
—————————————————————–
Here's a useful c. 25 minute discussion of the UN's recently released report on war crimes in Sri Lanka further to the investigation conducted by its human rights arm, the Office of the High Commissioner for Human Rights (OHCHR).
What makes this discussion distinctive – and in this instance particularly useful – is the fact that it's taken from a Indian current affairs TV programme, and involves a knowledgeable group of Indian Sri Lanka watchers.
Anybody used to breathless CNN panel debates – and unfamiliar with the ways of more upscale Indian media – will be pleasantly surprised by both the quality of the inputs, and the civility of the presenter's interventions.