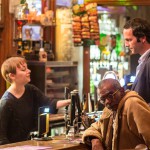 Customers at the bar in The Golden Lion. Photograph: David Levene for the Guardian
Here's an absolutely brilliant piece of reportage from Tom Lamont in the UK Guardian's 'Long Read' series. A must-read for all Londoners and indeed city-dwellers anywhere concerned about the impact of the property-acquisition vultures circling over anything with a hint of tradition – and thus potentially unrealized profit – about it. In this case meaning Victorian and Edwardian era pubs, with which London is blessed with its fair share. Simplest thing would br to quote the intro:
'Across the country, pubs are being shuttered at an alarming rate – scooped up by developers and ransacked for profit – changing the face of neighbourhoods and turning our beloved locals into estate agents, betting shops, and luxury flats. This is the story of how one pub fought back'.
Feet-firmly-on-the-ground, inspirational stuff.
http://www.theguardian.com/lifeandstyle/2015/oct/13/the-death-and-life-of-a-great-british-pub#_=_