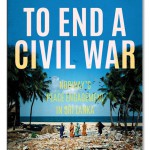 The launch of my new book To End A Civl War: Norway's Peace Engagement in Sri Lanka, published by Hurst, was held in London on Weds 28 October 2015.  A series of European launch events was held over the following month in London, Oslo and Stockholm, followed by events in North America (Toronto, Ottawa, Washington DC) in January 2016.
South Asian launches were held in Colombo (3 March), Chennai 7 March) and Delhi (8 March).
Details
Latest launch related information at: www.marksalter.org
Further book related information at: www.hurstpublishers.com
Watch this space for the latest details!