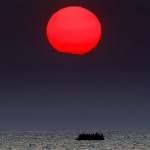 A dinghy overcrowded with Syrian refugees drifting in the Aegean Sea at sunrise after its motor broke down off the Greek island of Kos. Photo: Yannis Behrakis
This just in. Some essential Christmas reading:
December 2015. Clare Cummings, Julia Pacitto, Deletta Lauro and Marta Foresti look at why it is time for an effective and durable policy response to the current 'migration crisis' in Europe.
Such a response, however, requires a better and broader understanding of what drives people to migrate in the first place. There is much debate about their motivations, and about possible solutions to the 'crisis' – debate that often leads to conflicting messages and theories.
To shine a light on this issue and provide some clarity, the Overseas Development Institute (ODI) has used a Rapid Evidence Assessment (REA) approach to assess the quality of the evidence that is already available to identify what drives migration to Europe.
http://www.odi.org/publications/10217-understanding-drivers-migration-rea