North American Book Launches: First Stop Toronto
Here's the flyer for the first of a series of events scheduled in January to launch my new book in North America: pending release by U.S. customs, the N. American edition will shortly be available throughout the continent via Oxford University Press (OUP).
Ben McNally's Bookstore, Toronto, 12 January, 6-8pm.
All welcome!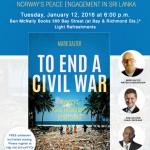 http://us4.campaign-archive2.com/?u=d406fd6
https://twitter.com/AmarAmarasingam/status/681968828075634688/photo/1