Sverige: here's 1 of 1000 reasons not to abandon your asylum policies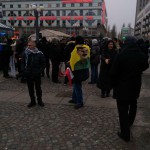 Encountered on my way back from the swimming pool: this Sunday afternoon demo. Look hard and you'll see that's imprisoned PKK leader Abdullah Ocalan on the back of a Kurdish participant's T-shirt.
The main chants: 'Erdogan – Terrorist', 'Turkish Army out of Kurdistan'. And yes, they'd have had a very tough time holding this demonstration back home in Turkey. All in all, one of a 1000 reasons for you to hold onto your long-established asylum & refugee policies, dear Sweden.